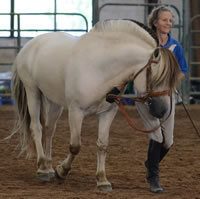 Kay Schwink
Board of Directors
Bayshore (SW), R Stars Farm
2003 Whittaker Hollow Road
Blacksburg, VA 24060 USA
540-250-2393
KayS@NFHR.com
I am relatively new (11 years) to the Fjord breed, but I have been a horse owner for almost 50 years, and I knew the first time I saw a horse when I was three years old that I needed at least one of these animals in my lifeMy first horse was a grade quarter horse type and he was perfect because he was a horse. Over many years, I have been able to become much more selective and I have developed my own ideal for the perfect horse, and for me the perfect horse is a Fjord. I was drawn to the breed because of their versatility; I used to dream of working a team of draft horses, but I also dreamed of jumping, of working cattle, of camping and exploring with my horse, of riding across the country, of dressage and of driving a carriage. I wanted to do all these things, and I wanted to do them with one horse (or pair or team). I wanted that "special horse" that could be my partner on the ground, under saddle, and in every discipline I might want to try.
I very nearly achieved that dream with POAs…a versatile pony breed developed in the US as "the using pony for youth" (although the modern POA is being increasingly marketed to adults too). I showed, trained, and bred POAs for over 30 years and I remain a member of both State and National clubs now. I even served on the Board of Directors for the national organization for three years. Please don't think I am fickle that I have almost completely put my beloved spotted ponies on the back burner (figuratively!) as I am increasingly infatuated with Fjords. I had admired them from afar since seeing my first one win a versatility competition in 1986 at a horse fair (I got third with my POA.)
Incredible fortune befell me in 2006 when my friend J Frank Baylis, needing to simplify his incredibly hectic life, asked me to become a partner in a group of four Fjords: his stallion Gingard and three mares. I drove to Frank's and filled my four horse trailer with the most wonderful gift I have ever been given. The three foals born in 2007 were registered with me as a co-owner and I do not plan to ever be Fjordless again. I became a Life Member of the NFHR shortly thereafter and feel like I have found my home. My son Travis shares my family membership and is also planning a future with Fjords.
The intelligence, athleticism, and sense of humor make the Fjord the horse of my dreams and I hope to promote and share the amazing Fjord breed with as many people as I can. I think more people would want Fjords if more people knew what they are like. I want to preserve the versatility and utility of the breed while also recognizing that some people prefer a draft type, others a "sportier" type, and that there is room for variation without losing heritage and tradition.
The strengths I can bring to the Board are my passion and enthusiasm, and a background in science and in education. I have a Doctor of Veterinary Medicine degree and have authored or co-authored publications in professional and lay journals. I have been a faculty member at the university level, and am currently a high school and community college teacher. In the interest of full disclosure, I am weak in the areas of organizational skills generally, and I get so nervous at shows and evaluations that some of you have definitely met me at my worst! S a member of the Board, I will do my very best for the good of the breed and the NFHR, and I will try to represent the membership to the best of my ability.