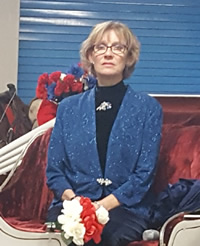 Lindy Hild
Board of Directors
111 Cottonwood Ave
Stephens City, VA 22655
540-247-8514
Lindy@NFHR.com
I've been besotted with horses as long as I can remember. Other girls played with Barbie Dolls, I would eagerly await my birthday card from my maternal grandparents, read it and then grab the $5.00 bill and bike down to Woolworth's to buy my next Breyer Horse. Some years, I'd get extra money, and then the big decision: which one to buy now? By the way, they are all still living happily (and needing to be dusted again) on top of the bookshelf in the hallway outside my bedroom. Except "Hershey", who joined the family a couple years ago: he is still in his box!
When I was in 7th grade, I got riding lessons from my folks, and that was, as they say, that. I'd trade tack cleaning for riding time at the barn. Occasionally, I got to ride friends' horses and school horses. My first "real" horse was a 10th Anniversary present from my husband: a green-broke yearling Quarter Horse. We SO proved the adage " green + green = black + blue ". She didn't last long, as I became afraid to ride her after a couple accidents and runaways. We adopted a retired carriage horse from Colonial Williamsburg, "Mikey" , and from him I acquired the driving bug. He passed away right after our daughter Laurel was born, and there was then a 16-year hiatus while Laurel was growing up.
Laurel and I saw our first Fjord at Ag Progress Days at Penn State in the late 1990s. I remember being so impressed with his calmness- he was quietly grazing while kids bounced all around. The unique appearance and user-friendly size of the breed was very appealing. Laurel got to pet him, and he was very gentile with her. Years later, when we were financially able to get back into horses, my first thought was to look for a Morgan ( this story was in the Fjord Herald) but that didn't pan out. Then I remembered that cute, calm Fjord and went looking online for a Fjord breeder near our home in Winchester, Virginia.
I fell in love with Dagney the minute I saw her in the barn at Deep Creek Farm, in her fuzzy winter coat. It was truly love at first sight. I went home, told my husband I'd found THE HORSE, and he didn't believe it. But when he met her, she worked her magic on him as well. We've been under her thumb (hoof?) since 2007.
Team Dagney has competed successfully in pleasure driving shows, CDEs and ADTs. We do a lot of quiet family drives in the countryside here in the beautiful Shenandoah Valley. We were part of the First-Place entry in the 2015 Pegasus Parade for the Kentucky Derby. What an exciting adventure that was!
We've traveled every June to Blowing Rock, North Carolina for the Fjords and Friends Fun Fest since 2008. We enjoyed our trips to Weedsport, NY, when there was a Fjord show there, and the big driving show in Cazenovia NY. We have attended The National Drive at both The Kentucky Horse Park and The Hoosier Horse Park ( that's an 11 hour drive from our home in the Shenandoah Valley of Virginia!).
We demonstrated Dagney and the Fjord Breed for several years at Ag Progress Days up at Penn State- completing the circle! We also participate every year at the Horse World Expo in Harrisburg, Pa. with Curt Pierce and Marsha Korose, Deep Creek Farm Fjords/ Mid-Atlantic Fjords. Dagney and I have the honor of driving Her Majesty Queen Elsa of Arendelle (and Reading, Pa)
In May of 2019, I retired after 31 years in the Operating Room as a Certified Surgical Technologist. That was my second career: before "people medicine" claimed me , I was a Certified Veterinary Technician for 13 years after being graduated from The Pennsylvania State University in 1975 with a BA in Laboratory Animal Science ( We Are PennState!).
I am looking forward to having more time to play horsie now that I don't have to schedule weekends off from work. Of course, the current pandemic ( this is being written in April, 2020) has rather put a damper on horseplay off the farm for awhile. My husband, Bruce and Daughter Laurel, essential members of Team Dagney , are happy to have me around more. I am looking forward to having more time to support and promote the best little horse in the world: the Norwegian Fjord Horse.