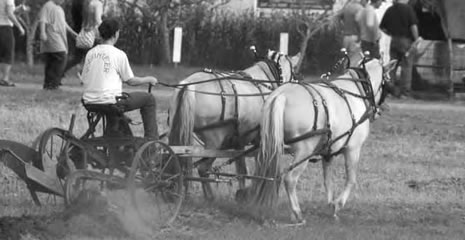 Fjords Represented at the
Common Ground Fair, Maine
by Sara Faull
Each September in Maine, the Maine Organic Farmers and Gardeners Association, (MOFGA), celebrates rural living with their Common Ground Country Fair. Livestock demonstrations of all kinds are a big part of this wonderful weekend. There are oxen, donkeys and draft horses all participating in the fair. Three farms in Maine bring their teams of Fjords to the fair; Bill Thayer of Darthia Farm, Sara Faull and Genio Bertin of Mandala Farm and Steve Akeley of Back Forty Fjords. Each brings two Fjords to participate for the weekend. Bill spends the weekend giving wagon rides throughout the fairgrounds with his team. Genio, Sara and Steve spend a lot of time in the demonstration field with the other draft horses and mules plowing, discing, harrowing and seeding the plot. The Fjords did it all, displaying their versatility on the small farm. We have seen increasing interest in small farms looking for draft power. At the fair, many see how well suited Fjords are to this kind of work. The fair attracts over 50,000 people over the weekend. Many visitors are attracted to the Fjords and visit them in the barn when they are not working. We look forward to sharing our Fjords again this September.