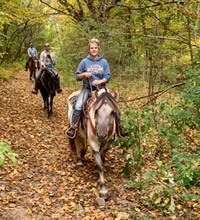 Cady Miller
Board of Directors
N6243 US Hwy 63
Beldenville, WI 54002 USA
920-740-7202
Cady@NFHR.com
Like many horse crazy girls I had books and books about my favorite thing: horses! Seeing a Fjord for the first time around the age of 10 years old, I fell in love! I have had some wonderful Fjords over the years, and enjoy raising and starting Fjords for trail riding, therapy programs, and showing. I appreciate all types of Fjords, both drafty and sporty, and currently own two wonderful, registered Fjord mares. I actively showcase my Fjords locally at shows, trail rides, and expos. We plan to breed occasionally and learn to drive our Fjords as well!
I have worked for performance horse trainers in the AQHA world, and still enjoy putting a good handle on all my horses. My husband and I live on our small hobby farm in Wisconsin where we have Fjords, Gypsy Cobs, and American Quarter Horses. We show locally and love to trail ride.
I work full time as a Paraoptometric Technician and also am in my undergrad full time to eventually become a licensed family and marriage therapist. I hope to specialize in the LGBTQ community and with couples outside of societal norms (Polya, open relationships). Outside of work, school, and horses I love traveling and visiting wineries and neat restaurants.