Cherrie Nolden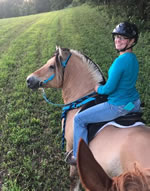 Board of Directors
5686 Griffiths Rd
Dodgeville WI 53533 USA
608-477-1981
Cherrie@NFHR.com
Fjords have been a life-long passion of mine, from when I first saw them as a 10 year old at the Midwest Horse Fair. By 14, I had talked my grandmother into buying and breeding my first mare, producing my first stallion in 1992, PPF Reitar. I raised and trained him and his 2 other half siblings, trained and showed his dam in 4-H, and managed the horses in pastured systems during my teenage years. I bought more mares, bred them to Reitar, bought other stallions, and have been slowly growing my herd and selecting for traits consistent with the Breed Standard and for individuals with the naturally calm, easy-to-handle temperament that attracted me to the breed in the first place.
I've attended and studied the scores and reasons presented at 6 NFHR conformation Evaluations in the past and independently studied equine functional conformation so I can select versatile breeding stock and honestly present the qualities of those foals I sell to potential buyers. Although I'm not a competitive person, I successfully showed my backyard-trained Fjords in dressage, trail, western, huntseat, halter, equitation and fun shows, and helped other 4-Hers learn to show successfully while riding the horses I trained. I've since received certifications in equine reproduction from K-State and UW-Madison, a BS in wildlife ecology studying wildlife diseases, a MS in agroecology studying ecosystem management with livestock, and am finishing a PhD in animal and dairy sciences conducting veterinary research focused on an immunological-based parasite treatment for grazing animals. I have 7 peer-reviewed publications in scientific journals and over 100 other articles and presentations. My Fjord herd has grown and traveled with me across 5 farms and 2 states where I tested and tweaked successful management of healthy Fjords on pasture 24/7. I've written many articles for the Fjord Herald and other publications on Fjord feeding, management, color genetics and inheritance, foal sex ratios, height predictions and other topics.
I've produced more Fjords in the last decade than any other NFHR breeder over this time, with my record showing a total of 82 Fjords produced at the time of this bio submission, and I currently keep 5 stallions, 20 mares, a handful of young stock, and sell many registered foals annually. I enjoy teaching people how to successfully manage and breed Fjords and other easy-keeper horses via social media and educational events hosted at our farm. With the past 30 years of Fjord breeding and pasture-based management under my belt, I hope to be graced with yet another 30 years, and to use our horses for more of our draft power on the farm while continuing to produce high quality Fjords for other people to enjoy and use for breed preservation.
The perspectives I bring to the Board are that of the non-competitive, service-oriented, scientific Fjord enthusiast and experienced breeder, with a preference for the versatile draft type, for therapy work, trail riding, sleigh rides, garden tillage, hay making, and simply enjoying these wonderful equines as members of our families.