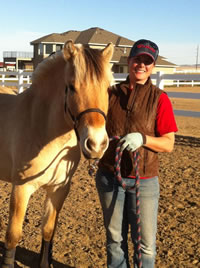 Gretchen Payne
Board of Directors
Kennewick, WA
509-551-2516
Gretchen@NFHR.com
Having first discovered the Fjord Horse in the early 90ís, I was set on finding one for myself when I was able. That opportunity presented itself in 2009 where I leased then eventually owned my first Fjord. Over the years, I have immersed myself with this breed and several different avenues with them, including breeding, training, showing, and promoting. I currently own two Fjords with one headed to breed this spring.
Over the years as I continued to network, I became more involved with organizations that supported the breed, such as the PNFPG and the NFHR. These outlets allowed me to connect with some wonderful Fjord people and resources, while utilizing my personal expertise in graphic design, marketing, and public relations. As a result, I served in several different positions within each group and on various committees. Within the NFHR, I represented the Registry as a board member, Treasurer, Vice President, as well as Chair of the Youth, Herald, and Promotions committees.
I cannot express how much I love and enjoy this breed! Their uniqueness, their undeniable and amazing characteristics, are exactly why all of us fell in love. The Fjord is unlike anything. Because of this, I am firmly devoted to preserving, promoting, and protecting their purity. The NFHR was created in this mission, one I firmly stand by.
As a board member representing the NFHR, I pledge to represent the organization with honesty, integrity, and transparency. I believe in working with others in a collaborative and objective way and always seek to do whatís best for the Registry. I have enjoyed this organization and the connections I have made through it and look forward to more.