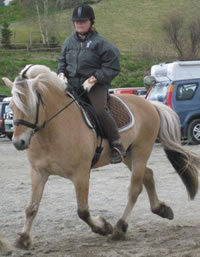 Karen Sholten Maas
Fjord Judge
11281 Cedar Run Rd.
Traverse City, MI USA
49684
231-275-6350
kmaas@coslink.net
I hold current cards with the American Buckskin Registry Association (ABRA), the American Miniature Horse Association - Senior Judge (AMHA), the Pony of the Americas Club (POAC), The Pinto Horse Association (PtHA). I hold an "R" United States Equestrian Federation Western license. I am also carded with Michigan State University's 4-H program.
I have owned, shown, and trained a wide variety of breeds. After breeding Foundation American Quarter Horses for 20+ years my husband and I have made a complete switch to breeding only Fjord Horses. I have worked out of a Morgan barn for twenty years, after having evented in the 70s and 80s, shown hunters over fences in the 80s and 90s, and dressage in the 90s, with championships and reserves in all divisions. I only rode and showed saddle seat for two competitive years - I won championships and figured that was enough for me.
I have Florida riders showing Western, Sidesaddle, and Sport Horse Arabians at the Regionals level now. I own (and show a bit) a Paso Fino gelding, Paladin del Eden, who is a very cool horse, and a Miniature who is the comic of the stables.
My Fjords are my grey Fjord stallion, RT Gandalf, who has been my prime trail ride since he was three years old. Gandalf has won halter championships against all breeds several times. I imported Råds Luna, our top ranked grey mare from Norway for him when she was a bred three year old. Their babies have been exceptional.
Every time I ride or work with one of my Fjords I say "I love this breed!". From my first trip to Norway in 1990, to my eighth visit there in 2010, I have cultured a passion for the Norwegian Fjord Horse. I have been invited several times to teach at the Norskfjordhestsenter in Nordfjordeid, Norway, and have scribed for one of the Norwegian judges at the Youngstock shows. There and at the agricultural school at Mo I have ridden into the mountains on Fjord horses and gotten an up close feel for "ekte vestlandet". As a judge and an Evaluator my continuing passion is to assist Fjord Horse breeders and owners in understanding the strengths and functionality of their horses in order to produce Fjord Horses in America that retain true Norwegian character.
I have a lot of hopes for the Fjord Horse in America.