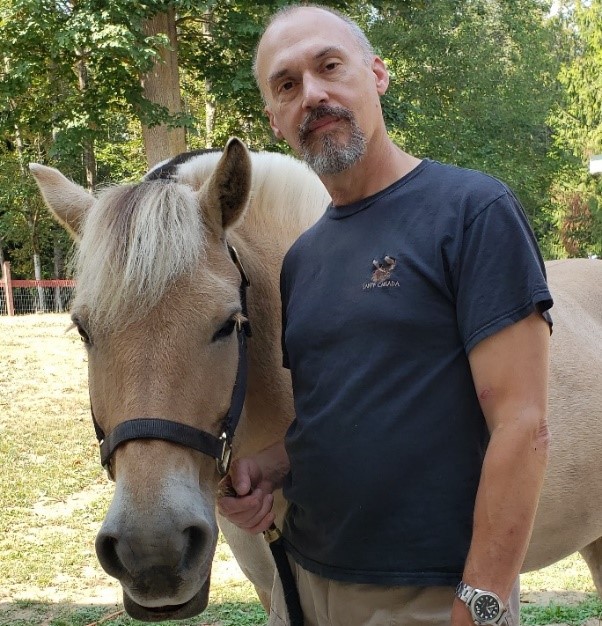 Karl Froelich
Vice President, Board of Directors
8626 171st Ave SW
Snohomish, WA 98290 USA
360-913-2424
karl@NFHR.com
My wife Jerrie and I were introduced to the Norwegian Fjords by Brian and Ursula Jensen in 2003. Since then, we have been strong supporters of the Norwegian Fjord Horse.
At present we own, drive, ride, vault on, and enjoy four registered Fjords. I have participated for several years with the Draft Horse Extravaganza at the Evergreen State Fair in Monroe, WA. Using NFHR literature, we introduced hundreds of fairgoers to the breed. I have supported the Pacific Northwest Fjord Promotional Group (PNFPG) shows by serving as Chairman, announcing and competing. Since 2014 our mare Bonnie Mai and I have been in the Syttende Mai Parade in downtown Seattle, WA.
As Chairman of the PNFPG from 2006 to 2008, I was known as a person who could bring individuals together by listening to all sides with an open and curious mind. During my tenure we grew our membership to 160 and were able to run two annual shows – in Libby, Montana, and Moses Lake, Washington, as well as an annual 3-day 'Spring Fling' event. This united a club that was scattered both geographically and culturally. The last Moses Lake Show drew 64 Fjords.
In addition, I bring the perspective of an analytical engineer having worked at Microsoft for over 25 years. As PNFPG chairman I oversaw a comprehensive legal and structural re-write of our bylaws to bring into accordance with Roberts Rules of Order and clearly delineated roles and responsibilities with the officers.
Finally, as someone who values the past, I am strongly interested in the preservation of the breed and its associated history. Many years ago, I discovered a Trille in a junkyard. Through patient tenacity I was able to purchase it. Researching for the project brought me into contact with a museum curator in Norway. With his help I was able to fully restore the carriage. I presented the story of the restoration to the NFHR Forum in Seattle in 2017. I drive this carriage on a regular basis in demonstrations and weddings.