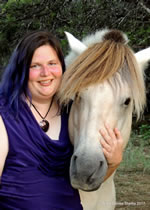 Kelly White
Board of Directors
493 Joiner Drive
Bandera, TX USA
78003
210-393-3541
kellyw@NFHR.com
In 2002 I traveled to Iowa to the Waverly Draft Horse Sale to look for a draft horse dressage prospect. While there, I saw my first fjords in person. In a sale barn with over 2,000 horses, these were a rarity and constantly had a crowd at their stalls. I didnít go home with a fjord then, but they never left my mind. A few years later, needing a horse for my nieces to learn to ride on, I traveled to Michigan to meet TUF Annie and bring her home. She didnít stay a kidís pony for long (though sheís given countless pony rides and first lessons), and I began my quest to let the people of Texas know about the horse worldís best-kept secret.
Since bringing Annie home, Iíve committed myself to the fjord breed and bought imported and evaluated stallion Bastian Vom Oderhaff from Canada. I spent several days learning fjords from Brian and Ursula Jensen and met many fjords and their people in the Pacific Northwest as we brought Bastian to the US. Since then Iíve expanded my small herd with horses from Montana, Ohio, and Florida, and I have big plans for 2019 and beyond. My goal is to breed fjords of exceptional quality and unsurpassed disposition, and I want to help other breeders of good fjords find them excellent homes.
Iíve done a lot of promotion of the fjord breed in Texas. My fjords participate in the San Antonio Stock Show and Rodeoís Horse Discovery exhibit, which is an educational area where school tours and rodeo visitors can have hands-on experiences with horses. 1.5 Million people attend the San Antonio Stock Show annually, and a large number of them walk through the barn and meet fjords. Many have never touched a horse before, most of them have never even heard of fjords. Iíve also taken horses to mounted Christmas caroling in my town, Bandera, which bills itself as the Cowboy Capital of the World, and participated in the annual Cowgirl Round-up and Show-deo with breed exhibits for the fjord.
My stallion has competed in dressage shows and garnered a local group of admirers who see that fjords can compete and win. For the past two years, I've taught several horse-related sessions at ďWriters in the Field,Ē an event where writers from all over the US come to have hands-on experiences and learn about different subjects for their novels. In 2019, I plan to take fjords to the Equine Affair in Ohio and will be recruiting others in the area to bring horses as well.
When Iím not working with the horses, Iím a software developer for a Fortune 500 company. Iím also a published author. Iíve been on the Board of Directors for the San Antonio Writersí Guild, a 100+ member non-profit organization for local writers, for eight years as president, vice-president, and treasurer.