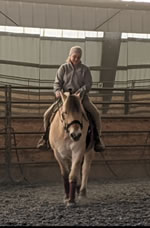 Maria Meister
Treasurer, Board of Directors
779 Miller Island Road
Klamath Falls OR 97603
831-235-3031
maria@nfhr.com
My husband and I run a boarding facility and care for 40+ horses, including our four Fjords. My first Fjord, Pixie (Dustin's Kaylee) was gifted to me by the late Virginia Grey in 2015 and I instantly feel in love with the breed. In 2019 I purchased Kjor Rosie and bred her to Mogly, producing a beautiful colt.
I have been owned by horses for 50 years now, and I am currently driving and practicing dressage with my Fjords. My passion is taking care of seniors.
I have served on numerous boards in the past 20 years, currently I am the Treasurer for Project Spirit Equine Rescue, Southern Oregon Emergency Aid and the Pacific Northwest Fjord Promotional Group. I am active in assisting with livestock evacuation and horse rescue.
Along with running the boarding facility, I am the CFO at The Carriage Works, which started out 40 years ago hand-crafting horse drawn vehicles. We currently design and build custom kiosks for amusement parks, hotels, airports, etc.
I grew up in a home where community service was part of everyday life and enjoy offering my help and services to my community through my talents both with horses, event planning and financial and bookkeeping knowledge.