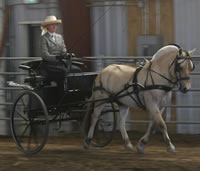 Teressa Kandianis
Board of Directors
Ferndale, WA
360-961-1470
Teressa@NFHR.com
I am originally from Atlanta, Georgia and graduated from the University of Georgia with a degree in Journalism. I've always been horse crazy but was unable to indulge myself until in my dotage. Now I own five Norwegian Fjord horses – a fjord was the first horse I had ever owned and was bought as a weanling ten years ago. The mature horses are trained and compete in dressage and hunter classes – mostly schooling shows. The horses are also trained in driving but seldom compete. I began riding five years ago and now ride several times a week. My preferred discipline is dressage but I also like to drive my pair of mares; however, there really aren't any places to train locally so it remains to be seen how that will work out. I enjoy my horses and want to become as proficient a rider as I can having started so late in my life.
I am currently the Vice Chair of the PNFPG (Pacific Northwest Fjord Promotional Group) and have just taken over as Chair of Spring Fling – an annual clinic we hold the first weekend in May. This year, for the first time, we are opening the clinic to other breeds – in tough economic times, we have to be flexible to flourish.
My husband and I lived in Kodiak for many years before moving to Ferndale, WA. We are retired from our Alaska fishing business. Though I would be happy to never attend another meeting ever, I love my fjords and appreciate the work that has gone into keeping the breed both as diverse and as focused as it continues to be.