Wendy Luscombe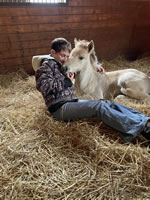 Board of Directors
429 Taghkanic Churchtown Rd
Craryville, NY USA
12521
646-465-1509
WendyL@NFHR.com
Norwegian Fjord Horses 2000-present:
I bought my first Fjord in 2000 and I was smitten. Since then I have always owned 7-8 Fjords. I really appreciate their nature and athleticism and I was determined to prove, as I had done with my Arabs, that Fjords can be competitive in any field they want to be if correctly trained and handled. My mission has been to show that Fjords can compete with purpose bred warmbloods in dressage and win. To date I have 2 Fjords competing at Prix St. Georges and others at Third and Second level. My Fjords have competed at every level of dressage from Training level to Prix St. Georges. They have won at Regionals Championships in Open, Amateur and Junior levels. I rode Koriakin to place on the shortlist for the National Dressage Championships and in 2019 I had 3 Fjords qualify for Nationals in Open classes. I ride every day and although I donít compete any more, I do the conditioning and body work needed to keep everyone fit and happy. I love this breed and I am delighted to see them becoming more accepted in the dressage ring. I have bred 2 Fjords of my own.
Before Fjords 1972-2000 UK and USA:
I bred and showed Arabian halter horses in England and continental Europe including Aachen and Leiden. I twice won the AHS Small breeder of the Year Award. When I emigrated to the USA I started competing at dressage and as I do now with the Fjords, I wanted to show that you did not have to ride a warmblood to do well in dressage. One of my Arabs, with Lendon Gray aboard, was one of the top Grand Prix horses competing at the Festival of Champions in Gladstone.
What I do for a day job:
I am partly retired now but used to to be CEO of an REIT and represent European institutions in the US. I sat and still sit on the boards of public and private companies in the USA and Europe. I chair and have chaired Corporate Governance Committees and am considered a specialist in corporate governance and risk management.
Board Work:
I take my board work very seriously having sat on all types of boards for nearly 40 years. My duty as a board member for any organization is to fairly represent all members and ensure that the mission statement is upheld.