Wendy Luscombe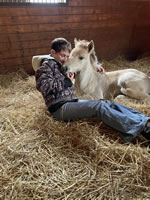 429 Taghkanic Churchtown Rd
Craryville, NY 12521
646-465-1509
wendyluscombe1@gmail.com

Norwegian Fjord Horses 2000-present:
I bought my first Fjord in 2000 and I was smitten. Since then I have always owned 7-8 Fjords. I really appreciate their nature and athleticism and I was determined to prove, as I had done with my Arabs, that Fjords can be competitive in any field they want to be if correctly trained and handled. My mission has been to show that Fjords can compete with purpose bred warmbloods in dressage and win. To date I have 2 Fjords competing at Prix St. Georges and others at Third and Second level. My Fjords have competed at every level of dressage from Training level to Prix St. Georges. They have won at Regionals Championships in Open, Amateur and Junior levels. I rode Koriakin to place on the shortlist for the National Dressage Championships and in 2019 I had 3 Fjords qualify for Nationals in Open classes. I ride every day and although I don't compete any more, I do the conditioning and body work needed to keep everyone fit and happy. I love this breed and I am delighted to see them becoming more accepted in the dressage ring. I have bred 2 Fjords of my own.
Before Fjords 1972-2000 UK and USA:
I bred and showed Arabian halter horses in England and continental Europe including Aachen and Leiden. I twice won the AHS Small breeder of the Year Award. When I emigrated to the USA I started competing at dressage and as I do now with the Fjords, I wanted to show that you did not have to ride a warmblood to do well in dressage. One of my Arabs, with Lendon Gray aboard, was one of the top Grand Prix horses competing at the Festival of Champions in Gladstone.
What I do for a day job:
I am partly retired now but used to to be CEO of an REIT and represent European institutions in the US. I sat and still sit on the boards of public and private companies in the USA and Europe. I chair and have chaired Corporate Governance Committees and am considered a specialist in corporate governance and risk management.
Board Work:
I take my board work very seriously having sat on all types of boards for nearly 40 years. My duty as a board member for any organization is to fairly represent all members and ensure that the mission statement is upheld.



Maria Meister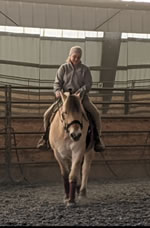 Klamath Equestrian Center
779 Miller Island Road
Klamath Falls OR 97603
831-235-3031
maria@KlamathEQ.com

My husband and I run a boarding facility and care for 40+ horses, including our four Fjords. My first Fjord, Pixie (Dustin's Kaylee) was gifted to me by the late Virginia Grey in 2015 and I instantly feel in love with the breed. In 2019 I purchased Kjor Rosie and bred her to Mogly, producing a beautiful colt.

I have been owned by horses for 50 years now, and I am currently driving and practicing dressage with my Fjords. My passion is taking care of seniors.

I have served on numerous boards in the past 20 years, currently I am the Treasurer for Project Spirit Equine Rescue, Southern Oregon Emergency Aid and the Pacific Northwest Fjord Promotional Group. I am active in assisting with livestock evacuation and horse rescue.

Along with running the boarding facility, I am the CFO at The Carriage Works, which started out 40 years ago hand-crafting horse drawn vehicles. We currently design and build custom kiosks for amusement parks, hotels, airports, etc.

I grew up in a home where community service was part of everyday life and enjoy offering my help and services to my community through my talents both with horses, event planning and financial and bookkeeping knowledge.

Cherrie Nolden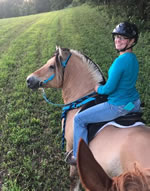 5686 Griffiths Rd
Dodgeville WI 53533
608-477-1981
wonderfjords@yahoo.com

Fjords have been a life-long passion of mine, from when I first saw them as a 10 year old at the Midwest Horse Fair. By 14, I had talked my grandmother into buying and breeding my first mare, producing my first stallion in 1992, PPF Reitar. I raised and trained him and his 2 other half siblings, trained and showed his dam in 4-H, and managed the horses in pastured systems during my teenage years. I bought more mares, bred them to Reitar, bought other stallions, and have been slowly growing my herd and selecting for traits consistent with the Breed Standard and for individuals with the naturally calm, easy-to-handle temperament that attracted me to the breed in the first place.

I've attended and studied the scores and reasons presented at 6 NFHR conformation Evaluations in the past and independently studied equine functional conformation so I can select versatile breeding stock and honestly present the qualities of those foals I sell to potential buyers. Although I'm not a competitive person, I successfully showed my backyard-trained Fjords in dressage, trail, western, huntseat, halter, equitation and fun shows, and helped other 4-Hers learn to show successfully while riding the horses I trained. I've since received certifications in equine reproduction from K-State and UW-Madison, a BS in wildlife ecology studying wildlife diseases, a MS in agroecology studying ecosystem management with livestock, and am finishing a PhD in animal and dairy sciences conducting veterinary research focused on an immunological-based parasite treatment for grazing animals. I have 7 peer-reviewed publications in scientific journals and over 100 other articles and presentations. My Fjord herd has grown and traveled with me across 5 farms and 2 states where I tested and tweaked successful management of healthy Fjords on pasture 24/7. I've written many articles for the Fjord Herald and other publications on Fjord feeding, management, color genetics and inheritance, foal sex ratios, height predictions and other topics.

I've produced more Fjords in the last decade than any other NFHR breeder over this time, with my record showing a total of 82 Fjords produced at the time of this bio submission, and I currently keep 5 stallions, 20 mares, a handful of young stock, and sell many registered foals annually. I enjoy teaching people how to successfully manage and breed Fjords and other easy-keeper horses via social media and educational events hosted at our farm. With the past 30 years of Fjord breeding and pasture-based management under my belt, I hope to be graced with yet another 30 years, and to use our horses for more of our draft power on the farm while continuing to produce high quality Fjords for other people to enjoy and use for breed preservation.

The perspectives I bring to the Board are that of the non-competitive, service-oriented, scientific Fjord enthusiast and experienced breeder, with a preference for the versatile draft type, for therapy work, trail riding, sleigh rides, garden tillage, hay making, and simply enjoying these wonderful equines as members of our families.



Jim Raabe (current board member - running for a second term)
217 Smith Road
Boyers, PA USA
16020
724-321-1146
jimr@nfhr.com

I first started into horse in 2000 and what a journey it's been. I never wanted to get horses but my wife wanted to get back into them. We started looking for a fjord in 2000 we ended up waiting till January of 2001. In January, we purchased our first mare LFF Vonda then shortly followed by Roslyn. Most people pick their horse, in my case the horse picked me. Roslyn was only a few month old when I first met her she proceeded to follow me around with her head in the swell of my back. That sealed the deal she was coming home with me. With having the girls, I had to start learning about horses since I had no prior knowledge. Our kids used the girls in 4H and as I learned more about the fjord breed I decided it was time to go to a Fjord horse show. So, it was off to the 2008 Finger Lakes Fjord Horse show. With this being my first interaction with the fjord community I made some lifelong friends and even served on Finger Lakes Fjord Horse show committee for a few years and have attended many more fjords shows, and evaluations. 2010 I was asked to help promote the Fjord breed with the Mid Atlantic Fjord Horse group at a major horse expo and have done so for the many years. Roslyn and I have done many trail rides over the years along with being Sheriff's Posse members. I have had many different titles over the years from being a self-employed business owner, to being a facilities manager for a government contractor. My most recent title is project manager for an electrical company working all over the United States. My wife Terri and I currently have 4 fjord mares 1 fjord gelding and 2 grade rescue mares on our Raven Ridge Fjord horse farm in Boyers Pa.

Jo Wilgus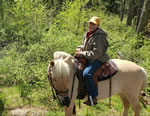 120 Private Road 2658
Walnut Springs, TX 76690
208-304-1333
joanne.wilgus.888@verizon.net

I have owned Fjords for the past 20 years. For me the Norwegian Fjord Horse fits every need a horse owner could want. My membership is up to date and has always been so. I am able to attend the face to face once a year without it being a financial burden. I am retired . In past years I have not been available to be of service to the breed or its members. Oh, I have posted photos of my involvement with our Fjords and all the activities we enjoy with them. Regn and Ivar are quite popular wherever we go. I feel we are great ambassadors for this breed.

Some of my strong characteristics are: being responsible, friendly, love of the breed, upbeat, easy to communicate with, working for the good of all. Willing to learn and take advice. I really do love life. Having Fjords are part of the reason.