CHANGE IN RULES OF REGISTRATION EFFECTIVE 1 JAN 2018
The Breeders Committee and the Board of Directors intend to make a change to the Rules of Registrations and Transfers to require all horses presented for registration on or after January 1, 2018 to be DNA typed for parentage verification. This would eliminate the exception for geldings and clarify the type of DNA testing. The registrar has found geldings whose parentage does not match their registration information. Incorrect parentage has a negative effect on the pedigree database resulting in incorrect progeny lists and pedigree trees. This change is being publicized here for comment by the membership before November 30, 2017, so please respond to
registrar@nfhr.com
with your comments. This rule change is as follows:
ARTICLE IV: A. 5. DNA typing for parentage verification is required for any horse presented for registration after January 1, 1996. (
Geldings are exempt unless requested by the Registrar
.) (Geldings will no longer be exempt from testing on or after January 1, 2018.)
FJORD HERALD STALLION LISTING (FALL ISSUE) CHANGES EFFECTIVE 1 SEP 2017
In the past, the Fjord Herald stallion listing has been created from the NFHR Registry database listing all stallions that had a Veterinarian Certificate on file with Registrar, and were not deceased or gelded. This produces a long list of stallions.

The NFHR has received several complaints from mare owners that the list is not accurate and did not contain enough information needed for selection of a stallion for their mare. Often the stallion is decease or is no longer available to outside mares. So, the new NFHR Breeders Committee developed new criteria for stallions to be listed in the Fjord Herald Stallion Listing. The main goal from the committee is to have stallion owners have the option of listing their stallions and choose what information about their stallions they want to include in the Fjord Herald.

The new form for submitting your stallions for the Fjord Herald Stallion Listing is available at the link below this article. To be eligible for listing in the Fjord Herald Fall Issue:
Stallion owner must be a current NFHR member, and;
Stallion must have been evaluated with a conformation/movement with red or blue ribbon awarded, or;
Stallion must have been evaluated and approved in original country, or;
A NFHR Veterinarian Certificate on file with the registrar.
By listing your stallion in the Fjord Herald Stallion Issue, you are offering your stallion for breeding to suitable outside mares.

The NFHR Breeders Committee looks forward to your feedback.

Click here to download the new stallion form
NFHR EVALUATION PROGRAM
The Board of Directors has extended its temporary moratorium on evaluations through 2017.

The purpose is to allow sufficient time for the Evaluation Committee to review the recommendations from the select evaluation committee regarding the suggested improvements to our current evaluation program.


NFHR RATE INCREASES
As of October 1, 2015, all membership fees will be increasing. As of January 1, 2016, all other NFHR service fees will be increasing. (
Fees and Services
)
TRAIL OF PAINTED PONIES - "LITTLE BIG HORSE"
STILL AVAILABLE HERE!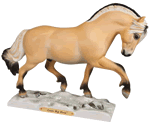 The NFHR and Trail of Painted Ponies proudly announce the release of "Little Big Horse", the first collectible Fjord Horse figurine!
Little Big Horse stands 7 1/4 inches tall, is 10 1/4 inches long, and is 2 3/8 inches wide. These are numbered, limited edition figurines.
Click here for more info and to order your "Little Big Horse"
Gift Memberships from SELLERS to BUYERS

As a NFHR member, you can purchase, for your non-NFHR member buyers, a NFHR Single Membership for only $40. Download the form below, complete it and submit it with your transfer paperwork and transfer fees. (for rule details, see the form)

Click here to download GIFT Membership form
2017 brings on new Board of Director members for the NFHR.

Our new members are Curtis Pierce, Kay Schwink and Jennifer Wright.

Click here for the contact information

FROM THE REGISTRAR'S OFFICE

Registrations and Transfers: Please refer to our

Rules of Registration

and

Services and Fees

page for NFHR rules and current fees before you send in your paperwork. Get your current years foal registrations in before they're 6 months old, to save on cost! If you have any questions, please contact the Registrar at 303.684.6466 or

registrar@nfhr.com
Support the Fjord Herald
Are you an avid reader of the Fjord Herald? Would you like to help keep it the high quality, informative magazine it is? All donations made using the link below will go directly to the Herald funding.

Read more ...