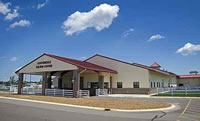 This year Fjord owners from around the country will gather in Saint Paul, MN for the NFHR & MWFHC Annual Meetings and Educational Forum. The event will be held at the
Leatherdale Center
at the University of Minnesota Equine Center. This facility will enable our speakers and clinicians to use real, live horses in their presentations. The NFHR and MWFHC will host a welcoming reception for all participants at the hotel (see below) on Friday, March 16th at 5:00pm, and a live auction following the MWFHC Annual meeting which begins at 6:30pm. The Forum will take place Saturday and Sunday, March 17-18, 2012. The NFHR Annual Meeting will also be held Sunday afternoon, giving members the opportunity to meet the Officers and Board of Directors for the coming year.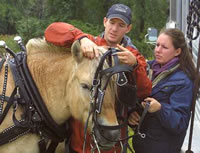 Some of the forum topics will include: Nutrition, Western Dressage, Driven Dressage, Ridden Dressage, Harness and Saddle Fitting and Bits.
As time gets nearer and the agenda becomes available and finalized, we will post that on the website.
CLICK HERE
to see the agenda. This is tentative and subject to change.
Hotel
: The hotel in Roseville, MN that is being recommened for this event is
The Radisson Hotel Roseville
. Ask for "the Norwegian Fjord Group" for group rates. Click the link for all their details.
As more information becomes available for this event, it will be posted on this page. Please check back regularily for details or feel free to contact
Sue@nfhr.com
for more information.
Registration Policies
• Registrations will not be processed without full payment.
• You may register by fax, by mail or through the NFHR's secure website.
• We accept Visa, Mastercard , Paypal and checks (personal or business).
• If paying by check, NFHR will hold your registration until the check has cleared the bank. Checks must be received by February 24, 2012.
• A late registration fee of $20 will be charged for on-site registrants.
• NFHR and MWFHC Members (current as of 2/1/2012) will receive the discounted rate for registration.
Cancellation
: Refund requests will be honored, less a cancellation fee of $25 if WRITTEN notice is received by the NFHR by March 2, 2012.
NO REFUNDS
of the meeting fees will be given after March 2, 2012 for a cancellation by the registrant.
If NFHR must cancel due to weather conditions or for any other reason, NFHR will issue a full refund of the registration fees paid. However, NFHR assumes no responsibility for additional costs incurred by the registrant (e.g. airfare, hotel fees, etc.)
Substitution
: NFHR will accept a registration substitution at any time prior to the start of the meeting. Please note that the NFHR will not make refunds or become involved in any financial transactions between registrants substituting.
No Shows
: Registrants who have enrolled in the meeting and do not attend the program (i.e. a "no-show") will not receive a refund.
Hotel Reservation
: You are responsible for making your own hotel reservations. See the section on Hotel Information for the recommended hotel and contact information.
To sign up download this online form, [
click here
] fill it out and mail in with your payment. You can also call 303-684-8466 to register by phone.